Bring all kinds of Auditorium Chairs from Turkey to your feet. Turkish Auditorium chairs manufacturer supplying seating solutions to furniture dealers.
Auditorium Seating
Auditorium seating
is the general name of seats used in areas such as cinema, theater, conference hall, university classrooms. Auditorium chairs provide a comfortable seating experience for the audience during education and six events. Auditorium chairs are offered in many different models and designs. As auditorium chair manufacturer Chairium, we offer solutions for all cinema and theater projects for our customers. We manufacture many different products such as auditorium chairs with plastic cup holders, auditorium chairs with writing tables, commercial auditorium seating in our own factory. We can customize upholstered and wooden seats, which are frequently preferred in auditorium seating, according to our customers' projects. In addition to the use of dense sponge to maximize comfort in cinema chairs used in cinema seating, the audience can focus on the movie with its ergonomic design.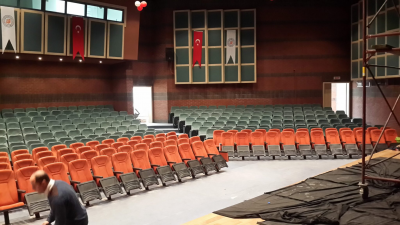 With our competitive pricing policy, we offer professional solutions for many of your projects such as auditorium seats for sale, commercial cinema seats, commercial theater seating. For fixed seating projects, we are at your side with the most suitable solutions with our expert team and production experience.